Investing in Renewables
Since 2005, Allianz Capital Partners has been dedicated to renewables and is one of the world's largest financial investors in this asset class. Investments in wind and solar projects offer an attractive annual income stream at an acceptable risk-return profile.
The advantages of the asset class are:
predictable, long-term cash yields in comparison to investments alternatives with similar risk
a large and growing investment universe
no correlation with capital markets, providing excellent possibilities for portfolio diversification
Investment Strategy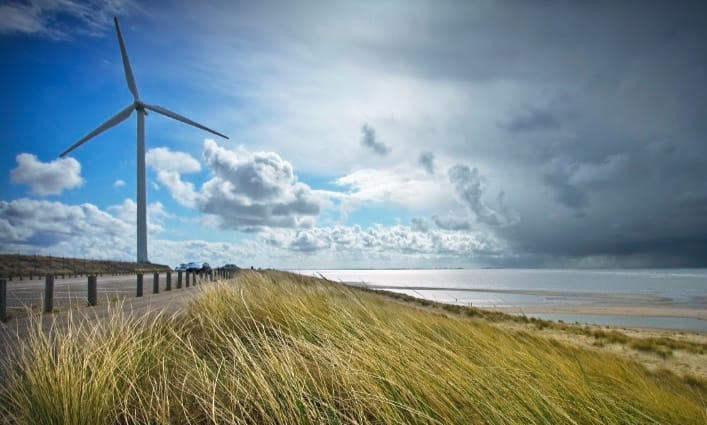 We invest in wind farms and solar parks on the basis of a long-term buy-and-hold strategy. Therefore we aim to maximize long-term value. Our aim is to generate stable, low risk and low volatility cash yields for the full operating asset lives of 25 to 30 years or longer. We achieve this by making sound individual asset acquisitions in addition to building a diversified portfolio with risks spread across different resource regions, different regulatory regimes and different technology providers.
Accordingly, ACP focuses strongly on operational excellence in our operating portfolio and continues to make incremental capital investments in our asset base if the long-term value is enhanced.
In Europe we are a 100% owner of our Renewables investments, but remain open to considering joint ventures with industrial partners for larger or more challenging investments. As a tax equity investor in US Renewables, we always invest alongside a strategic cash equity partner and either invest 100% of the tax equity or a lower amount on a project by project basis.
Investment Focus
Onshore and offshore wind farms and solar parks
Preferred investment size EUR 50mn to 250mn
Core markets within Europe with a strong regulatory framework for renewables
Stable and predictable cash flows
Low risk, long-term cash yield profile
100% ownership, but joint ventures considered for larger or more complex investments
Tax equity investment in US renewables projects
Cash equity investments in US renewables projects
Expertise
The knowledge and experience of our Renewables team makes ACP a particularly educated investor, greatly facilitating rapid progress through the due diligence and contractual negotiation process. The carefully selected team combines long term experience in project development, financing, construction and operation of both on- and offshore wind and solar parks.
Our Renewables team combines many years of experience in investment structuring and renewable energy development and operation. Working closely with industry leaders and experienced project developers, we offer our investors robust investments with predictable returns based on sound transaction structures and ongoing operational excellence.
Portfolio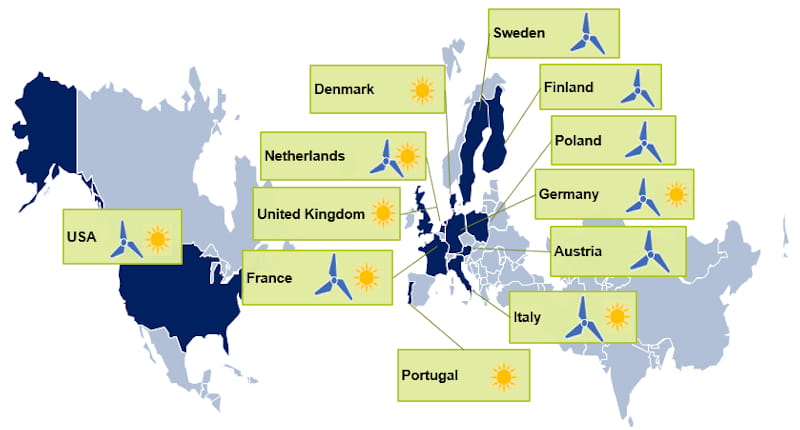 © Allianz Capital Partners 2021
Currently, we are invested in more than 150 wind farms and solar parks in Austria, Finland, France, Germany, Italy, Poland, Portugal, Sweden, the Netherlands, Denmark, the UK and the US. This corresponds to a power generation capacity of approx. 3.5GW in Europe and 0.3GW in US Cash Equity. We also have a large scale tax equity investment portfolio in the US.
We will continue to seek opportunities in the markets where we have already invested, but we are also expecting to expand the investment portfolio geographically as good opportunities arise.